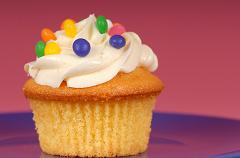 I hope this newsletter finds everyone well and enjoying the beautiful weather.

I live in Perth, Western Australia and we have had a couple of weeks with temperatures in the low 20s (Celsius). I love this time of year and want to make the most of it before the heat really begins. I've spent a few days this week getting the garden and outdoors ready for summer. For those of you in the northern hemisphere, enjoy the mild days before the cold sets in.

I always think that the extreme temperatures are an ideal time for baking. It is either way too hot or too cold to venture outdoors. It is a great time to try the new recipes that you've been collecting, or make the tried and true old faithfuls.


My old faithful is my vanilla cupcake recipe. I love making vanilla cupcakes and being adventurous with decorating. They are so versatile as they can be frosted in a variety of ways and in a variety of colors. Everything seems to "go" with a vanilla cupcake. I still love the look of a vanilla cupcake, vanilla frosting and a cherry on top.



I'd love to hear your favorite ways of decorating a vanilla cupcake. How do you frost your vanilla cupcakes?

I've heard lots of people talking about the vanilla cupcake recipe from the Magnolia Bakery in New York City. I have tried this recipe and they do seem to keep quite moist. It made 2 dozen large cupcakes so the recipe can be halved if necessary.

Magnolia Bakery Vanilla Cupcakes

Ingredients
• 1 1/2 cups self-rising flour
• 1 1/4 cups all-purpose flour
• 1 cup (2 sticks) unsalted butter, softened
• 2 cups sugar
• 4 large eggs, at room temperature
• 1 cup milk
• 1 teaspoon vanilla extract

Preheat oven to 180C/350F degrees.

Line two 12-cup muffin tins with cupcake papers.

In a small bowl, combine the flours. Set aside.

In a large bowl, on the medium speed of an electric mixer, cream the butter until smooth. Add the sugar gradually and beat until fluffy, about 3 minutes. Add the eggs, one at a time, beating well after each addition. Add the dry ingredients in three parts, alternating with the milk and vanilla. With each addition, beat until the ingredients are incorporated but do not overbeat. Using a rubber spatula, scrape down the batter in the bowl to make sure the ingredients are well blended. Carefully spoon the batter into the cupcake liners, filling them about three-quarters full.

Bake for 20–25 minutes, or until a cake tester inserted in the center of the cupcake comes out clean.

Cool the cupcakes in the tins for 15 minutes.

Remove from the tins and cool completely on a wire rack before icing.


___________________________________________________



I have recently received two emails regarding vanilla cupcakes that are decorated in vastly different ways. One is suitable for little girls and the other is an adult dessert.

I received a lovely email the other day from a Mom who had tried my cupcake cosy idea for her daughter's fifth birthday party. Karen wrote to me and sent gorgeous pictures of the cupcakes she decorated for a fairy party.


Don't they look impressive! Karen promised that they were quick to prepare. For the full text of Karen's email and more photos click here.

Another recent email was from Judith who sent me her recipe for Tiramisu Cupcakes, along with a photo. Tiramisu always seems to involve lots of steps and lots of mess, but this recipe is really quite easy. Last night I made the Tiramisu cupcakes for my family, using the Magnolia Bakery recipe, and they were a huge success. Check out Judith's message and photo here.

Here are a couple of other easy decorating ideas, both using pink buttercream frosting piped on to the cupcakes. One is then topped with edible sugar butterfly decorations and the other is coated in coconut and a shard of white chocolate added.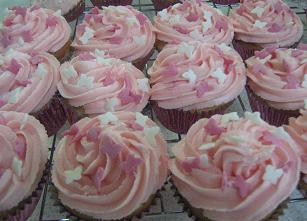 I hope you get some inspiration from this edition of Cupcake Corner. I would love to hear from you as to what you would like included in future editions.

Until then happy baking, making and decorating.