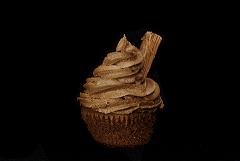 Welcome to my first edition of Cupcake Corner.
Future additions ofCupcake Corner will deliver:
* New recipes, blog entries and any new brilliant brainstorms on making cupcakes.
* Stories from YOU about your awesome cupcake creations
* Inspiration and encouragement that will keep you baking!
My recipes and tips will show you that You CAN bake fantastic cupcakes and create fantastic cupcake craft!
I have been baking cupcakes for years for my family and friends. Recently, I was given this Chocolate Cupcake Recipe and it immediately became a family favorite. This recipe is so easy to make and the great thing is that the mixture can keep in the fridge for up to two weeks.
I make up a batch (often a double batch) and it is on hand for any unexpected visitors. It is also great to bake 10-12 at a time so that there are always fresh cupcakes in the house!
The cupcakes keep really well and can last up to 5 or 6 days (or so I have been told - they never last that long in my house for me to test this theory!)
Chocolate cupcakes
Ingredients
300ml water
150ml vegetable oil
2 tspn vanilla flavor
10ml white vinegar
250g caster sugar
250g plain flour
8g bicarb soda
60g cocoa powder

Instructions
Mix together the water, oil, vanilla and caster sugar until combined and sugar has dissolved.
Sift the dry ingredients together and add to wet ingredients. Mix until combined and store in refrigerator overnight.
Place cupcake liners in tray.
Preheat oven to 160C (325F).
Pipe or spoon mixture into cupcake liners.
Mini cupcakes bake for 13 minutes, and large cupcakes bake for 23 minutes.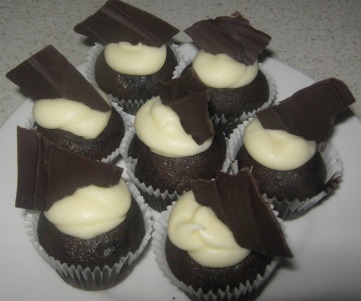 Top these cupcakes with my quick and easy cream cheese frosting and you have a magnificent cupcake. Melt chocolate and either spread on oven sheet to set and break into shards or pipe into shapes and place on top of frosting.

Ingredients
270g cream cheese
90g unsalted butter, room temperature
180g icing sugar

Instructions
Beat the butter until smooth.
Slowly add the cream cheese and beat until combined.
Add icing sugar and continue beating until thoroughly combined.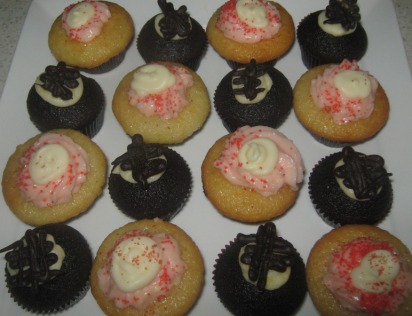 To follow in this chocolate cupcake theme I will share an email that I received the other day. I have no idea where or when it originated. It is called a Five Minute Mugcake and it is true to it's name. Five minutes from reading the email to eating the mugcake. It's definitely more of a pudding texture than a cupcake. I think it should be served with either cream, ice-cream or custard.

5 MINUTE CHOCOLATE MUG CAKE

Ingredients
4 tablespoons flour
4 tablespoons sugar
2 tablespoons cocoa
1 egg
3 tablespoons milk
3 tablespoons oil
3 tablespoons chocolate chips (optional)
A small splash of vanilla extract
1 large coffee mug (MicroSafe)


Instructions
Add dry ingredients to mug, and mix well.
Add the egg and mix thoroughly.
Pour in the milk and oil and mix well..
Add the chocolate chips (if using) and vanilla extract, and mix again.
Put your mug in the microwave and cook for 3 minutes at 1000 watts.



The cake will rise over the top of the mug, but don't be alarmed!

Allow to cool a little, and tip out onto a plate if desired. EAT ! (this can serve 2 if you want to feel slightly more virtuous).

And why is this the most dangerous cake recipe in the world? Because now we are all only 5 minutes away from chocolate cake at any time of the day or night!

I hope you get some inspiration from this first edition of Cupcake Corner. I would love to hear from you as to what you would like included in future editions.

Until then happy baking, making and decorating.